View from Flottningsmuséet in Kölsillre, Haverö
Spend a night in the Haverö tree cabin
Öarna Trädhus i Haverö' is a new project: A small cabin ion an island in Haverö. It is possible to book a night in this cabin May-October. A fantastic experience of the nature and the quiet in Haverö!

or more information, please contact us  +46 70 616 21 21

Walk the pilgrim route "Saint Olavsleden"
During medieval times, the route "S:t Olavsleden" was one of the big four pilgrimages, alongside the roads to Jerusalem, Rome and Santiago de Compostela. By walking this route you follow in the footsteps of the Norwegian Viking Olav Haraldsson. After returning from exile in Russia he created unity in the country by converting the population to the Christian faith, and became king of Norway.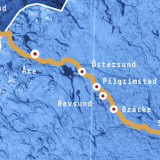 On the 29th of July 1030, Olav was killed in the Battle of Stiklestad. His body was secretly transported to Nidaros, the present-day Trondheim. Soon after his death miraculous stories about him began to abound. His body was then reburied and the cathedral was built in his honour.

Further information at www.stolavsleden.com